Accessories
Apparel
Body & Spirit
Carvings & Sculptures
Charitable Giving
Children
Craft Supplies
Dining/Kitchen
Food
Garden
Gift Ideas
Home Decor
Jewelry
Occasions
Office/School
Pets
New Discoveries
Sale Items
Clearance


PRODUCT KEY
All of our products are Fair Trade


Compassionate Trade




Eco-Positive




Supporting Children




Recycled




Animal Friendly




Organic




One World Projects Blog

Fair Trade News, Artisans engaging in Social Entrepreneurship, Updates from One World Projects, and More!

Blog Home | Blog Archives | Subscribe

---
New One World Projects Blog
Greetings! And welcome to the all-new Home for the the One World Projects Blog. On the pages of this blog you'll find relevant information about big news in Fair Trade, exciting updates about the adventures of artisans from One World Project's global network, and the occasionable showcase for One World Projects fashionable and socially responsible products.
First, a little introduction to One World Projects (OWP): One World Projects is a U.S.-Based player in the fair trade industry. We are dedicated to the "triple threat" mission of social entrepreneurship, economic empowerment and environmental conservation.
The company was initially founded by Phil Smith in 1992 to fight rain forest destruction with economic empowerment. Inspired by the success of initial products and the villagers he worked with, Smith decided to expand the mission of OWP to incorporate the principles of fair trade and began providing income generation to disadvantaged citizens in communities worldwide.
Today, 1,000-plus artisans from over 25 impoverished and developing countries are a part of the OWP network. They create household goods, fashion accessories, toys, and other objects, which are imported and distributed by OWP to retail outlets and US consumers.
But, OWP does more than simply provide a fair wage to it's suppliers in poverty-stricken regions! OWP works with artisans to improve their communities by ensuring adequate access to basic necessities like food and water. We also open new markets for products and use marketing research to refine the artistic skills and designs of our artisans so that they can continue to compete effectively in the US. OWP has coined the phrase "Compassionate Trade" to describe this mission to go above and beyond the requirements of the Fair Trade Federation to improve the lives of partners and artisans.
Since its creation, OWP has returned over $6 million to disadvantaged communities around the world. The mission of this blog is to connect you (the readers) with our OWP artisans around the world. We want to share their stories and hear what you have to say. Here's to the future of One World Projects Blog!
---
---
Silence is Golden - Working with "Differently-Abled" Artisans!
Sharmishth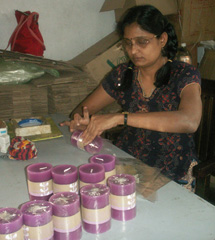 a, Surajit and Neelanjana are a few members of Silence. Silence has helped these "differently-abled" members to live independent and dignified lives. Sharmishtha, who was deaf and mute by birth and later developed a degenerating eye-sight, works with the packaging department. Surajit and Neelanjana work in the design department; exceptional artists, their disabilities have positively enhanced their concentration and creative powers.
Silence was conceived in 1979 by a small group of highly-creative deaf and mute artisans. With strong effort and the support of others, Silence was registered as a non-government organization. The artists at Silence began by creating hand-painted greeting cards; today these hand-painted cards are one of the most popular among Silence's product range.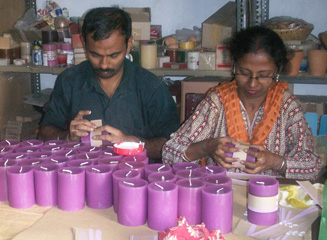 Silence, started selling these hand-painted cards at various local exhibitions, fairs and get-togethers. In 1995, Silence became a member of IFAT (International Federation for Alternative Trade), and gained entry to the international fair trade market. This platform provided a great opportunity to explore new markets for its skilled artisans and their products. In the past 17 years, Silence products have been well received by the international fair trade community. In addition to hand-painted cards, artisans also create decorative candles, incense sticks, woodcraft items, jewellery and paper mache ornaments.
Silence also provides vocational training for youth, women and children who are physically challenged. A three storied building located in a bustling part of south Kolkata, is the training centre. Every year Silence trains three groups of 30 "differently-abled" students in commercial art, traditional crafts and computer skills. Students are provided 6-months of free training; upon completion, the students either step out into the world of opportunities, or become part of Silence's production team.
Ap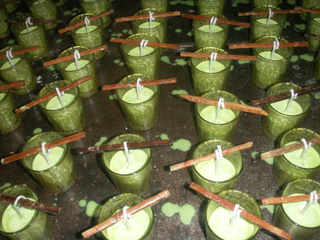 art from running a training centre for new students, Silence works on several welfare projects for its member artisans. In addition to the fair wages paid to the artisans, they also receive free healthcare and access to medical facilities whenever required. Monthly savings in the form of a Provident Fund (similar to a 401K program) and a life insurance policy have been introduced to Silence's employees. This saving benefits them after retirement and helps to support them in cases of unavoidable situations, such as accidents and deaths.
With its growing number of "differently abled" artisans and a range of beautiful products, Silence has been able to support itself and its members successfully over the years. Today they stand strong with more than 200 artisans, a workshop, training centre and a retail outlet in Kolkata. With the team's support and dedication, Silence is constantly working on new plans and agendas to grow in number and size.

---
---
Helping Street Children Take a Step Forward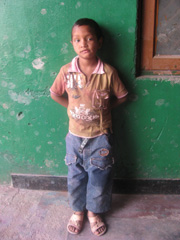 The UN estimates that 18 million children live and work in the streets of India. It is believed that more than 250,000 of them are in the nation's capital city of Delhi. Thousands of immigrant families move to Delhi each year in search of employment and find themselves living in the streets. Their children grow up on the street having to fend for themselves, sometimes being abandoned or running away. Many of them make the platforms of the New Delhi and Old Delhi railway stations their home as it may be the place where they came into the city, or the constant comings and goings of people provide the opportunity for illegal activities. Few jobs are available to these children and many turn to a life of crime as the easiest way to sustain themselves during a time in their lives when they should be playing and going to school.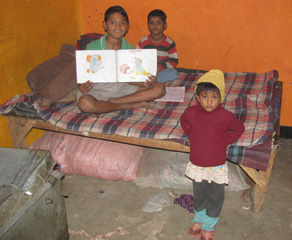 Ramesh Gupta was a runaway fending for himself in the streets of New Delhi when the law caught up to
him. Luckily he was removed from police custody and admitted into the Salaam Baalak Trust where he was fed, educated, and sheltered to help prepare him for a productive adulthood. The Salaam Baalak Trust provides street children with a holistic network of services that help guide their physical, creative, cognitive and social development through schooling and various rehabilitation programs. In 2004, Ramesh partnered with a friend and started the Lakshya - Badte Kadam community initiative, or Goal - Step Forward, hoping to take what he learned and share it with his old community.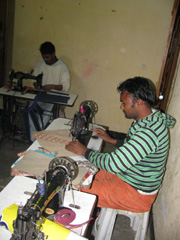 The primary goal of Lakshya is to rescue street children from the dark life of the railway stations and then to provide them with shelter, food, the opportunity of an education, and vocational training. They also administer social reform campaigns to help those children that for one reason or another continue to live in the streets. By playing games with them, teaching them to become productive members of society, and providing them with counseling services, the Lakshya community has grown to support more than 100 street children. Lakshya is creating a nurturing and safe environment for children filled with promising opportunities and a life of dignity.
Lakshya is a registered NGO, funded by the production of colorful and eco-friendly textiles. Rag-pickers are employed to collect pieces of recycled-cloth, newspapers, and chip bags from the streets while the older youth, and women in the surrounding community sew them into various apparel and fashion accessories. Our line of Lakshya products will include a courier-style shoulder bag, a gym bag, back pack, wallets, clutches, handmade paper journals, neem wood pencils, and more. We are happy to be a link in the chain of support for these children in need who find themselves struggling and alone on the streets of Delhi. This new line of products will be available for the spring season.
Help support the street children of Delhi by placing a pre-order for their products today.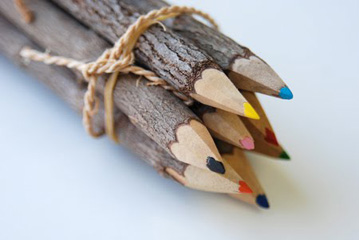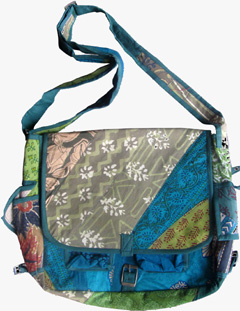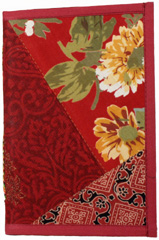 ---
---
Afghan Artisans Fight the War for Peace Every Day
Two Days ago, the world witnes
sed techtonic shifts in policy for the international forces fighting to stabilize Afghanistan. General McChrystal was dismissed over a salacious article in Rolling Stone that used quotes from aids and unnamed sources to expose deep divides within the high-powered American political team trying desparately to craft an effective strategy for the region. The article revealed more than simple personality conflicts: it exposed the Aghan conflict as a complicated issue hampered by cultural barriers, vague goals, and miscommuication. Petreous now takes on the challenge and we look forward to what he will be able to accomplish
With all the talk about military strategy and insubordination among the world's most powerful people, it's easy to forget that Afghanistan is more than military strategy, insurgents and IEDs. It is, at heart, populated by energetic, creative individuals who have lived for centuries in Afghanistan and learned to live off some of the world's most arid landscapes. Today, we profile TWARA - the Turkmens Women's Active Rights Association - an organization dedicated to working with Turkmen communities in the most remote regions of Afghanistan.
TWARA artisans make old-fashioned felt rugs by hand and jewelry out of semi-precious stones. Most of the artisans live in remote areas of the coutnry where there are no schools, hospitals, electricity, or even running rivers. Many small rivers that once carried water through these parts of Afghanistan have simply dried up, so families must travel far to get any water at all. Most of the women in these families are not allowed to leave their homes to work or study, but they have lost husbands, brothers, and sons to the current conflict and therefore have no way to earn money or support their families. By training these women to make felt rugs and jewelry and then paying them for work as orders come in, TWARA gives these women an opportunity to earn a living and provide for their children.
In addition to providing work and income, TWARA teaches participating women to read and write and makes provisions so that the children in these families can attend school.
To learn more about TWARA and the artisans who are part of the organization, visit the the One World Projects Page. The controversial Rolling Stone article is available online Here.
---
---
Ghana - Two Worlds
With a win against Serbia and a tie with Australia, Ghana's World Cup soccer (or football) team has earned their stripes in the opening round. The game today against Germany will determine whether the team moves on to the next round, and the hopes of a nation ride on what will happen for 90 minutes on the pitch.

World class athletics aside, Ghana is a rich culture with a proud history (Ghana was the first Sub-Saharan country to declare independence from colonial rule in 1957). The country is characterized by diverse landscapes, include vast swaths of savanna grasslands filled with heavy grasses used in basket weaving. One Word Projects has crafted a marvelous relationship with basket weavers in Ghana, and imports their flexible, multi-purpose baskets to the US.
Some Fun Facts! if the baskets become mis-shapen, users can simply wet them with water, reshape them and let them dry. The handles for the baskets are made with Goat Leather in order to re-inforce the grass. Goat is the most common source of protein in Ghana, and in order to minimize waste of peripheral resources, the skin is made into leather and used in a number of different ways.
Let's enjoy the upcoming Ghana game wholeheartedly while supporting the people that live there too!
See the Ghana World Cup Blog for more details regarding the game. For more details on the products, please go to OneWorldProjects.com
---
---