One World Projects strives to reduce poverty, restore balance in nature, and promote peace by giving artisans around the world a chance to earn fair wages and improve their lives and communities.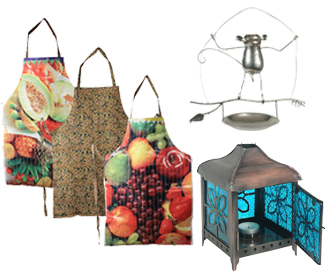 Discover Our New Products! Looking for something new to help herald the coming season? Check out our New Discoveries. Lots of fun new things like Aprons made from recycled billboards, and recycled metal bird feeders and lanterns.
(shown above - sizes are disproportionate).
Same Great Chocolate, All New Look!
Our delicious organic dark chocolate is now available in an all new look. Enjoy the taste of smooth buttery brazil nuts while you nourish your body with both protein and selenium. Boost your immune system by eating antioxidant rich and tantalizingly tart goldenberries. Stimulate your mind munching on coffee beans roasted to perfection. All wrapped in the most delicious chocolate. You could call it organic chocolate or vegan chocolate, but we call it guilt-free chocolate!